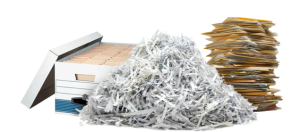 We are gauging interest in having a collection day for any sensitive documents you may have lying around the house that you'd like to dispose of safely. Documents would need to be placed in cardboard banker boxes (available at any office supplies store) and brought to City Hall, where a secure shredding service will be on site to destroy them. The event would take place on an upcoming Saturday.
Sorry, no loose or bagged documents can be accepted. They MUST be in cardboard banker boxes.
If you are interested, please call City Hall at 816-741-6071 to let us know about how many boxes you would bring.
Thank you!